ATTENTION CUSTOMERS
We will be closed for Memorial Day, Monday May 25, 2020
March/April, 2020
TO OUR VALUED CUSTOMERS:
This is an unprecedented time the history of our Country.   COVID-19 has changed the way we live, socialize and conduct business.
In this time of uncertainty, we wanted to reach out to our Customers to reassure you that we will make it through this (as we have made it through other down turns over the 39 years we have been in business).    We are continuing our business operations while adhering to recommendations and limitations from government and medical authorities.  Our showroom is currently closed, but we are available by phone at 970-310-5353.
The Construction Industry in Colorado is exempted from the Governor's Shelter at Home Mandate.   While our showroom will remain closed, we are addressing business during this mandate accordingly, including:
We are available to meet customers by appointment for new construction and remodeling projects, to place orders and to install those orders.
Businesses who provide essential home goods and services are exempt. So, for customers in need, such as a privacy or safety/security issue, we will work with you on a case by case basis for your needs while the mandate is in place.
If you have already purchased window coverings from us and are waiting for an installation, we are happy to talk to you about scheduling an installation on a case by case basis.
If we do come into your home for sales or installation, we will take every precaution to ensure both our staff and our clients' safety. If we bring a product into your home, we will follow recommended guidelines about disinfecting all work surfaces and keep a six-foot social distancing policy.
If you would like to start discussing a less pressing project via phone or virtually online, we are happy to start the process with you so when the mandate is over, we can meet and get your project moving swiftly.
We greatly appreciate your business.  Even though our Showroom is currently closed, we will re-open  even stronger than we were before to serve you.   We will continue to offer great promotions and provide excellent customer service as we always have.   Thank you for your patience, understanding and support.
We are all in this together – we hope you will continue to support local businesses who care about you!
THANK YOU!
Tom & Judy Magara & Our Wonderful Staff
M S Interiors, Inc., dba Colorado Blinds & Design
257A East 29th Street
Loveland, CO 80538
970-663-0505 (Showroom)
970-310-5353 (Judy)
Colorado Blinds & Design is a full service window coverings and interior design company serving the Colorado Front Range and Summit County.
Areas served include Loveland, Fort Collins, Johnstown, Berthoud, Longmont, Greeley, Denver, Boulder, Breckenridge, Frisco, Silverthorne, Dillion, Montezuma, and Blue River. Our showroom is located in Loveland, but our window covering specialists provide free in-home estimates all over Colorado. We carry Hunter Douglas® blinds, shades, verticals, motorized shades, shutters, draperies, and more. Unlike many other companies out there, we even have our own custom workshop to create custom window treatments exactly to your specifications.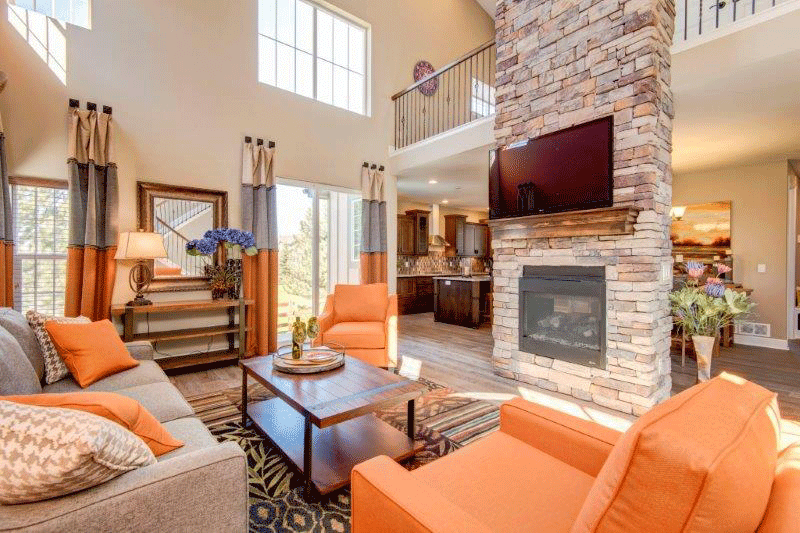 What customers are saying…
We are so happy with the shutters and blinds. Tom did a fabulous job installing and the colors you recommended look absolutely fabulous in the kitchen and dining area. Thank you so much! We are very happy customers.
Kate
Loveland, CO
It's always a pleasure doing business with Judy. Everything's very professional, and window coverings and products are ready when she says they'll be ready. Tom Magara is a great installer, neat, experienced, knowledgeable and personable. They give customer service at a personalized level, which you just don't get as much anymore. And they're competitively priced; they work within your budget.
Laura and Dan Foote
Big O Tires, Loveland, CO
Judy,
I am writing to thank you for your exceptional customer service in getting our blinds ordered and installed. From the time you first came to our house to the actual installation, both my husband and myself saw first hand how you and your staff took care in making sure our window coverings were what we wanted as well as what would be appropriate for our house.
In the beginning, I really appreciated your prompt and professional appearance, you came to our house, made suggestions and helped me figure out colors and styles, and followed up with a quote which was spot on without any hidden fees. I am CPA and needed to get this going during tax season and my first priority was my clients; I was not always able to find time to contact you during working hours. I appreciated your follow up with me to see everything was working for me. You kept us in the loop regarding when the order would be here and again, spot on. The installer was prompt and professional, in addition, he took the time to show my husband how the blinds worked and how to take care of them to ensure a long life.
We recently placed an additional order for our outdoor shades. Again, I appreciate the same professional service, keeping in touch with us through the ordering/delivery process, and the installation with care instructions.
This type of customer service is almost a lost art and I can not tell you how much I appreciated being able to contact you and your company, have you do your job, so I could focus on my job. You took the worries out of the process and we have beautiful window coverings in our new home.
Again, thank you very much!
Jill J.
Berthoud, CO
Thanks, Judy! I have appreciated your thoroughness in the process and will refer you to our friends and neighbors.
Brent S.
Loveland, CO
We love our draperies in the bedroom and bathroom.  They add warmth, and in the case of the bedroom, dark!  They really block out any light that comes in around the blinds.  It is so nice.  Thanks for doing such a great job on those.
Julie C.
Loveland, CO
Working with you this past year has been wonderful. Yesterday I was at a ladies' gathering and two of the people there (Cathy C. and Jan J.) said they got blinds from you and are very happy with the product and service.
Barbara R.
Loveland, CO
 Just a short note to thank you for helping me with our window coverings.  They are beautiful, especially the colors in the master bedroom.  And, it was wonderful to have them installed before we moved in upstairs.
THANKS FOR ALL YOUR WORK!
Donna W.
Loveland, CO
We love the blinds, and so does everyone who comes over and sees them!  I have given away several of your cards. If you ever need photos of this particular blind in place, you are welcome to ours.  They really look great with the new furniture we got.
Mary
Loveland, CO
We love the blinds.  Thank you for ultimate and professional service and product from start to finish. We are very happy!
Anji
Loveland, CO
I cannot express how thrilled I am with the shutters and the professional installation crew.
As you remember, we were in the middle of getting a punch list done in our new home. You graciously walked in, and gave us your professional opinion as to the best window covering for our new home. We are so glad we went with your advice, even though we had not even considered shutters before! Your team kept us up to date on shipments and you even called personally to confirm the install date. We appreciate your quality service – it has exceeded our expectations.
Please feel free to use us as a reference, we would love to show off our new home. The shutters have enhanced it perfectly!
Marina and Paul
Loveland, CO
Colorado Blinds & Design has been in business for over 35 years.
We are a certified Hunter Douglas Centurion Gallery Dealership
Hunter Douglas Authorized Service Center and repair center for other brands as well
All of our window covering specialists are certified by Hunter Douglas
We are motorization experts and can work with home automation systems